BRCN Tuition and Fees/Cost of Attendance 2023-2024
Cost of Attendance
The Financial Aid Office provides an estimate of full-time educational costs for attending BRCN for the academic year. Costs noted below are standard financial aid budget items and represent an estimate of what students can anticipate spending for tuition and fees, books and supplies, living expenses, personal and miscellaneous expenses. Only billable costs will appear on the student's billing account.
Please Note: Cost of Attendance figures are used for budgeting purposes only and represent an estimate of projected costs for the academic year before any financial aid.  Actual costs may vary based on personal circumstances.
Cost of Attendance is made up of two different types of costs: direct and indirect.
Direct Costs: Items that will appear on your bill, such as tuition, fees, and food and housing (if you live on campus).
Indirect Costs: Estimated costs associated with going to college and should be included in your budget. These include items like books, transportation, and personal/miscellaneous expenses. These items will not appear on your bill.
View or Print Tuition Information
All Programs – Off Campus
Undergraduate – On Campus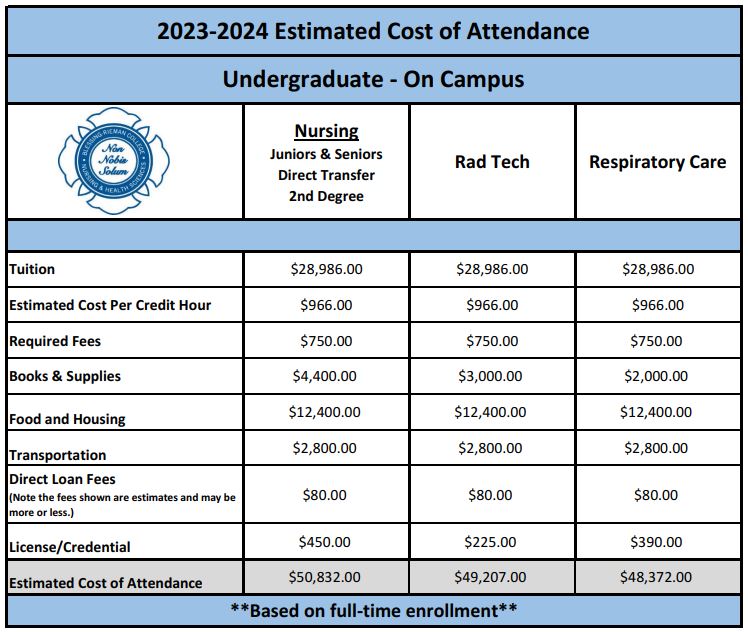 All Programs – At Home
Additional Charges
Our FAFSA school code is 006214- We encourage students to file the FAFSA beginning October 1st.
Partner School Tuition & Fees
Students who are part of the joint degree program through Culver-Stockton College or Quincy University pay the partner institution's tuition and fees for the first two years of the program. Use the links below to learn more about their tuition, fees, and other costs:
Culver-Stockton College: http://www.culver.edu
Quincy University: http://www.quincy.edu
Each institution reserves the right to adjust tuition, fees, and other charges to reflect increasing costs.