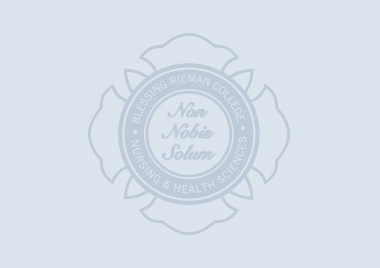 Blessing-Rieman College of Nursing & Health Sciences, in cooperation with The Blessing Foundation, has awarded $1,078,290 in scholarships and grants to Blessing-Rieman students for the 2017-2018 academic year.  A total of 48 students received money from 41 endowed scholarships.
Megan Dewaard, Canton, received the Reon B. Altgilbers Scholarship.  Reon dedicated her life to her family; working full time at Blessing Health System, helping raise two daughters and supporting her husband while he was in nursing school and during his nursing career. Reon's husband is a 1987 graduate of the Blessing Hospital School of Nursing and a 1990 graduate of Blessing-Rieman College of Nursing.  Reon passed away in July 2015 from cancer and the Altgilbers family established the scholarship in her honor. 
Jenna Wilson, Macomb, received the Dr. Kent W. Barber Memorial Scholarship. Dr. Barber helped found The Quincy Clinic, which when merged with Physicians & Surgeons Clinic became known as Quincy Medical Group.  Dr. Barber was a general surgeon who practiced in Quincy for 52 years.
Joanna Stay, Timewell, earned the Stan L. Bartley, MD, FAAFP, FACEP, Scholarship for Master of Science in Nursing degree students.  Dr. Bartley served patients as a family practitioner at the former Physicians and Surgeons Clinic, Quincy, from 1969-1978.  He then joined the Blessing Hospital Emergency Room Medical Staff and worked there until his retirement in 2002.
Juliann Pryor, Plainville, received the Blessing Nurses Alumni Association Scholarship award. 
Amber Morrison, Pittsfield, received the Bill and Zig Brown Scholarship. Zig Brown served Blessing for 42 years, beginning as a staff nurse and retiring as Human Resources Vice President for Blessing Corporate Services. The scholarship was established in memory of her husband, Bill Brown.
Tanyaler Flakes, Quincy, received the Brad and Bonnie Billings Scholarship. Brad Billings retired in September 2014 as President/Chief Executive Officer, Blessing Corporate Services, with 33 years of service to Blessing. His wife Bonnie is known for her participation in the arts, particularly Quincy Community Theater.
Five students received funds from the Charles M. and Dorothy Briggs Scholarship Award. The Briggs were residents of Brown County, IL. Briggs scholars include Rachel Bock, Philadelphia, MO; Jordan Enzwiler, Troy, MO; Shanna Garrison, Mount Sterling; Kassaundra Henrick, Timewell and Crystalyn Milan, Quincy.
Ashley Ayo, Hull, received the Blessing Volunteers in Partnership (BVIP) Scholarship.  The award is given, in part, for demonstrated value for volunteerism. 
Ashley Rentfro, Vandalia, MO, received the Carol Carter Scholarship. This award was begun by Bob G. Carter in memory of his wife and in honor of the years of care the Pittsfield couple received at Blessing Hospital.
Eleanor Bocke, Quincy, received the Shay L. Bartley Drummond, BSN, RN Scholarship. Drummond, the mother of three, worked as a certified surgical technologist at Blessing Hospital before continuing her education at Blessing-Rieman College of Nursing. She graduated in May 2007 and joined the Adams County Health Department in Quincy. Drummond is currently an Infection Preventionist with the VA St. Louis Health Care System.
Ashley Buckllew, LaBelle, was awarded the Dr. Newton and Ruth DuPuy Nursing Scholarship. Dr. DuPuy began his medical career in Quincy in 1946 as an obstetrician/gynecologist. He retired in 1984. Over this 50-year career he delivered more than 10,000 babies, was chief of staff at Blessing Hospital, and chief of obstetrics and gynecology at Blessing and St. Mary Hospitals.
Brooklyn Murfin, Liberty, received a Lauretta M. Eno Nursing Scholarship. Eno served as Director of Nursing, Director of Nursing Education, and Assistant Administrator over a 23-year career at Blessing Hospital.
Kaytlyn Harpole, New Canton, was selected for the Fessenden Family Scholarship. Dr. Corrine Fessenden was a Blessing-Rieman College of Nursing Associate Professor for more than 20 years. She earned her Master Degree in Nursing from the University of Missouri-Columbia; and her Doctorate from Wayne State University, Detroit, MI.
Eric Davidson, Meredosia, earned the James R. Forrest Memorial Scholarship.  It was established in memory of Forrest, a Blessing-Rieman Class of 1978 graduate, by his mother, June Forrest.
Jeanne Jimenez, Mendon, received a Paul H. and Anne B. Gardner Memorial Scholarship.  It was established in 1988 to be awarded to a nursing student who exhibited leadership in Blessing-Rieman College of Nursing's Student Nurse Organization.
Sydney Allen, Bushnell, received the Dr. Carl Hagler Award.  Dr. Hagler joined the former Physician & Surgeon's Clinic in Quincy in 1946. In 1963 he was selected to chair the Adams County Medical Society's Polio immunization project. The project's goal was to immunize every Adams and Pike County, IL, resident over two months old against polio. Dr. Hagler passed away in 1977.
Shanna Garrison, Mount Sterling, received the Major Constance Beck Hash Scholarship named after the native of Quincy who attended the Blessing Hospital School of Nursing in 1943, graduating in 1945. She was a nurse in the United States Air Force for 20 years. Major Hash died in 2008. The scholarship in her honor is available to veterans of the United States Air Force, Army, Navy or Marine Corps; or a child or grandchild of a veteran.
Madisyn Days, Beardstown, received the Jack D. Huff Scholarship.  Huff, who passed away in 2006, was a well-known Quincy area insurance executive.
Shayna Lowry, Quincy, received the Olive Billbe Jurgens Scholarship. Billbe Jurgens was the aunt of Pam Brown, former president/chief executive officer, Blessing-Rieman College of Nursing, and was instrumental in encouraging Dr. Brown to pursue higher education and nursing as a career.  Billbe Jurgens passed away in 2007.
Kassaundra Henrick, Timewell, earned a Virgil E. Kendrick Scholarship. This scholarship honors the man who was a farmer from Timewell, IL. He passed away at the age of 33 and an anonymous donor established the scholarship to promote a health academic community by providing a student with a gift card to purchase meals from the Blessing Hospital Food & Nutrition Department.
Jessica Mowen, Baylis, received the Elizabeth R. Keys Scholarship. The scholarship was established by the late Dr. E. Hayden and Katie Keys in memory of Dr. Keys' mother, who was a nurse. 
Jennifer Masker, New Canton, received the Tayna Scott Kyer Memorial Scholarship.  This fund was established by Kyer's husband, Steve, and their two children after her death at the age of 34 in 1993. Kyer worked for many years as a nurse in Blessing Hospital's Critical Care Area.
Jessica Mowen of Baylis and Anna Linderman of Dardenne Prairie, MO, received Candice Rae Barker Leeper Scholarships. Baker was born on August 2, 1946 in Sioux City Iowa.  She was an assistant professor for 23 years at Blessing-Rieman College of Nursing.
Patience Oboh, Quincy, earned the Dr. Peter and Mary Leffman Scholarship. Dr. Leffman was a long-time Quincy otolaryngologist, retiring in 1997. He and his wife remain active in Hospital and community projects.
Katelyn Ufkes, Quincy, received a Lundberg Family Scholarship. The Lundberg family farmed in Taylor, MO, for more than 80 years and two of the family's children graduated from Blessing nursing programs.  Today, Barbara Lundberg Taylor serves as an Academic Advisor and Nurse Educator in Blessing-Rieman's Learning Resource Center.
Natalie Jones, Florissant, earned the Marian Milligan Scholarship, recognizing a student who demonstrates outstanding professional nursing characteristics.
Shelby Renner, Louisiana, received the Leta Faye Mitchell Munson Scholarship. A Hannibal native, Mitchell Munson was a 1955 graduate of the Blessing Hospital School of Nursing and spent most of her career in northern Delaware.  She passed away in 2010.
Jessica Pilant, El Dorado, KS, received the Dr. Robert and Shirley Murphy Scholarship. Dr. Murphy practiced internal medicine in Quincy for 37 years.
Sarah Plant, Lewistown, received the Elmer and Lola Orth Scholarship established by the Orth estate of Clark County, MO, in April 1991.
Macy Waterkotte, Quincy, received the Ellen Kuhn Phelps and Col. Fred Phelps Nursing Scholarship. Mrs. Phelps is a native of Payson and worked at Blessing Hospital at various times during her 46-year nursing career. Prior to being called to active duty in the United States Army Nurse Corps and serving around the world, Col. Phelps was an instructor at the Blessing Hospital School of Nursing, the forerunner of Blessing-Rieman College of Nursing.
Brittany Bentley, Springfield, IL, earned a Lucille B. Rieman Scholarship Award.  It recognizes full time students who demonstrate above average academic achievement and participate in college and community activities. 
Morgan Bringer, Durham, earned the Dr. James and Dorothy Rouner Scholarship. The late Dr. Rouner served Quincy area patients for 54 years in general practice and was a founder of the Physicians & Surgeons Clinic.
Courteney Fancher, Monmouth, received the Dick and Carole Scranton Scholarship.  Carole Scranton, a graduate of the Blessing Hospital School of Nursing, was the first Certified Critical Care Nurse at Blessing Hospital.  She passed away in 2006.  This scholarship fund was renamed in honor of the passing of Carole's husband, Dick, in December 2008.
Evan Reilly, Quincy, received the Marilyn Murphy Shepherd Scholarship. Shepherd, PhD, MSN, MBA, RN, is a graduate of Blessing Hospital School of Nursing and currently a faculty member of the College. The scholarship was established in the memory of her parents, Ralph and Jean Murphy.
Carlie Cadieu, Quincy, was awarded The Lucille V. Stuffing Scholarship. Stuffing, of Ursa, worked at Blessing Hospital for 30 years as a nurse's aide. She passed away in 2012 at the age of 91.
Chris Ames, Quincy, received the Lawrence L. Swearingen Scholarship, named in honor of the man who led Blessing Hospital for 33 years. Swearingen retired as Blessing President/Chief Executive Officer in May 2005.  The scholarship recognizes students who demonstrate strong personal character, leadership and self-reliance.
Sarah Calvin, Kampsville, received The Trautvetter Family Scholarship, established in memory of Lynne Virginia Trautvetter.  Trautvetter passed away suddenly in December 2015.  A native of Quincy, she graduated from Blessing-Rieman College of Nursing.  During her career Trautevetter served several hospitals in Dallas, TX; and Johns Hopkins Bayview Hospital and Walter Reed Hospital, Washington, D.C.
Marissa Downey, Griggsville and Joshua Lock, Bowen, received the Mary Lou (Groves) Tuttle Scholarship. Tuttle was a 1938 graduate of the Blessing School of Nursing. She passed away in January 2004.
Kerigan McDonald, Quincy, received the Frances Waterkotte Scholarship. Preference is given to Quincy Notre Dame High School graduates first; Quincy High School graduates second, followed by a graduate of any high school in the area.
Emma Forman, Hannibal, received the Nona L. Knight Young Scholarship. Knight Young, of Clayton, was a 1958 graduate of the Blessing Hospital School of Nursing.
Two students received Blessing-Rieman General Endowment Fund scholarships; Christopher Doellman, Quincy and Emily Hancock, Palmyra.
Blessing-Rieman College of Nursing offers a Bachelor of Science in Nursing degree with partner institutions Quincy University, Quincy, IL, and Culver-Stockton College,
Canton, MO. Blessing-Rieman also offers a Master of Science in Nursing degree and an Associate of Science in Respiratory Care degree. Blessing-Rieman also offers online programs for registered nurses who wish to earn their Bachelor of Science in Nursing degree and Master of Science in Nursing degree.
Blessing-Rieman is accredited by The Higher Learning Commission, the Commission on Collegiate Nursing Education (CCNE), and is approved by the State Boards of Nursing in Illinois and Missouri. The College also held the National League for Nursing's Center of Excellence in Nursing Education designation.
The Blessing Foundation, Inc., raises, manages and disburses privately donated gifts to Blessing Health System affiliates to improve the quality, depth and scope of health services available to residents of the region.