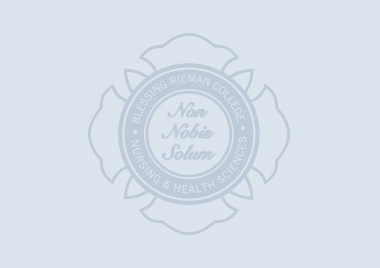 Blessing-Rieman College of Nursing & Health Sciences, Quincy, has been approved by the Higher Learning Commission (HLC) to offer a new two-year degree program: Associate of Science in Health Information Management.
Health information is the data related to a person's medical history, including symptoms, diagnoses, procedures and outcomes. According to The American Health Information Management Association, health information management (HIM) is the practice of acquiring, analyzing and protecting digital and traditional medical information vital to providing quality patient care. HIM professionals are highly trained in the latest information management technology applications and ensure a patient's health information and records are complete, accurate, and protected.
HIM professionals can hold different positions in hospitals, clinics and with insurance providers. These positions may include coding patient records, analyzing data, patient financial services, patient access, quality improvement or medical staff office to name a few.
"This is our first educational program for those who do not provide direct patient care," said Brenda Beshears, PhD, RN, President and Chief Executive Officer, Blessing-Rieman College of Nursing & Health Sciences. "Our interest in this field reflects the vital importance of educating individuals who have the ability to compile and record accurate medical information. This assists in the delivery of high quality patient care and meets the opportunities in this field for well-educated professionals."
The United States Department of Labor Statistics anticipates 17 percent job growth for HIM professionals by 2020.
Blessing-Rieman's HIM program is designed for first-time college students as well as those seeking a career change through a second degree. For pre-requisite and financial aid information call the Blessing-Rieman Admissions Department, 217-228-5520, ext. 6949.
Approximately one-half of the Blessing-Rieman HIM courses will be taught online, with the remainder being taught on-campus.
The first day of class is August 20 and space is available.