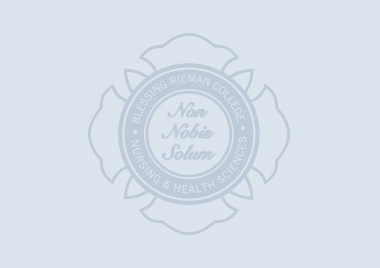 Registered nurses interested in earning an advanced degree online are invited to attend an upcoming Blessing-Rieman College of Nursing and Health Sciences informational session.
The informational sessions regarding Blessing-Rieman's RN-BSN, RN-MSN and MSN online degree programs will be held from between 4 and 6 pm on Monday, February 15; Thursday, February 18; and Tuesday, February 23.  The sessions will be held in Conference Room M at Blessing Hospital at 11thStreet.  Conference Room M is between the entrance to Blessing-Rieman and the Moorman Pavilion Atrium.  Directional signs will be posted.  Interested RNs are encouraged to stop by the session of their choice anytime between 4 and 6 pm.
Blessing-Rieman's online degree programs offer in-person and online personal academic advising and tutoring; full-time, non-adjunct, Masters and PhD-prepared faculty; fully online Library and Student Services; and a laptop is provided for each student's educational needs.
For more information call 217-228-5520, ext. 6964.