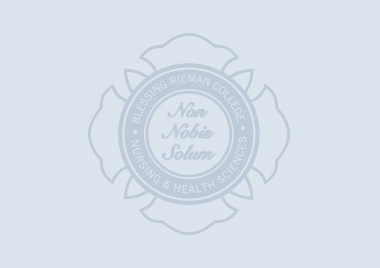 The following Blessing-Rieman College of Nursing & Health Sciences students earned President's List status for maintaining a 4.0 grade point average in nursing courses during the Fall 2015 semester:
Blessing-Rieman students: Katelyn Aschemann, Rebecca Bliefnick, Laura Goodwin, and Hannah Nauert, Quincy; Megan Garkie, LaGrange; Lisa Kerker, Augusta; Britnee Liehr, Mt. Sterling; Jason Murphy, Palmyra; and Veronica Snowden, Chicago.
Blessing-Rieman/Quincy University students: Megan Elder, Autumn Jackson, Macy Jochem and Shayna Lowry, Quincy; Sarah Frankenbach, Palmyra; Lindsey Hobson, Griggsville; Margaret Cunningham, Peoria; Lindsey Greene, Ottawa, IL; and Courtney Lewis, Fairview Heights, IL.
Blessing-Rieman/Culver Stockton College students: Dakota Wand, Quincy; Jill Akright, New London, MO; Mackenzie Lemons, Pittsfield, IL; Christina Wood, Kahoka.
Blessing-Rieman College of Nursing offers a Bachelor of Science in Nursing degree with partner institutions Quincy University, Quincy, IL, and Culver-Stockton College,
Canton, MO.  Blessing-Rieman also offers a Master of Science in Nursing degree, an on-line RN to BSN program.
Blessing-Rieman is accredited by The Higher Learning Commission, the Commission on Collegiate Nursing Education (CCNE), and is approved by the State Boards of Nursing in Illinois and Missouri. The College is also a former National League for Nursing-designated Center of Excellence in Nursing Education.
The College also offers an Associate of Science in Respiratory Care program.